64 x 40 Slow-Speed Shredder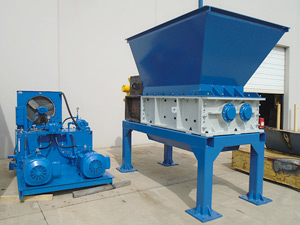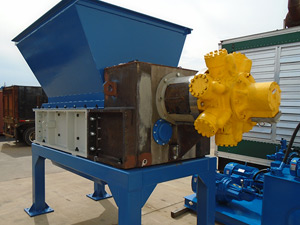 Available for Immediate Delivery
One (1) APCO TRS 64x40 Slow-Speed Shredder. Complete with infeed hopper stand and discharge chute with control panel (460 V) and 120 HP power unit. With open loop system MR-525 fluid drive motor.
Shredder frame is new, controls and power unit are rebuilt. Includes 1 year warranty.
Other Features:
Feed opening: 64" x 40"
Horsepower: 2 x 60 HP = 120 HP total
2" thick blades, double hook, single stacked
7" hexagonal shafts
Applications include pallets, MSW, scrap, tires, wire, & 55-gallon drums.
SEE IT SHRED
$185,000 FOB St. Louis, MO
Total Shipping Weight: 28,000#
Contact Us For questions or other information about this shredder.