Vertical Shaft Turnings Crusher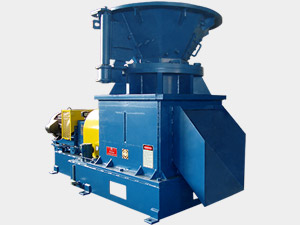 The American Pulverizer VS Series Vertical Shaft Turning Crusher is a modern and practical, self-contained, vertical axis crusher designed to handle nearly every kind of scrap and lots of it with real dependability, day-in and day-out. Ideal for supporting both large and small metal machining plants as well as steel processors.
Vertical feed allows you to handle large tangled bundles of turnings. Gravity forces the turnings into a revolving head and stationary replaceable cutters produce the short chips.
Features all-steel construction with a strong fabricated base that's easy to install.
Inspection/access doors allow manual removal of tramp metal when necessary. The entire upper housing is hinged to open completely in half without disturbing or removing the feed hopper. It can also be mounted to open in any of four directions and be re-mounted to open on any side later: a real convenience for locating and moving the machine in the plant if desired.
Contact Us For questions or other information about Vertical Shaft Turnings Crushers.